As I was actually away, I did notice few new smart apps that hit the App Store and Play Store, so I have bit of trying up to do in terms of latest releases. One that specifically caught my eye was Breathe-Home Massage Therapist app developed by Breathe OndemandIncbecause of the amazing features.
Breathe provides a wide range of 5 star massage modalities, which actually includes Swedish, sports, deep tissue and pre-natal. These massage modalities can also be scheduled as a couple's massage. Moreover the customers are easily able to book a Breathe customized massage experience that efficiently meets their requirements.
Experience the Special Kinds of Massage
Deep Tissue Massage
This is absolutely designed to relieve pain and muscle tension throughout the body by reaching the deepest layer of muscles, connective tissue and tendons.
Pre-Natal Massage
They are perfectly designed to reduce stress and discomfort due to pregnancy. It also helps to alleviate pains such as backaches, stiffness, headaches, swelling and leg cramps
Couple Massage
This beneficial massage gives wonderful relaxing and personal experience. During the session, two people receive massages at the same time and in the same room from two different therapists.
Lymphatic Massage
The Lymphatic drainage is a gentle rhythmical massage treatment performed by a specially trained lymphatic massage therapist to stimulate the circulation of lymph fluid around the body.
Sports Massage
It wholly focuses on specific problem areas in the body (shoulders, knees, neck, back, hips, feet, arms, etc.) experiencing pain, decreased motion or decreased function.
Swedish massage
They are qualitatively designed to relax the entire body and involve long, soft, kneading strokes that decrease muscle tension and increase blood flow throughout the body.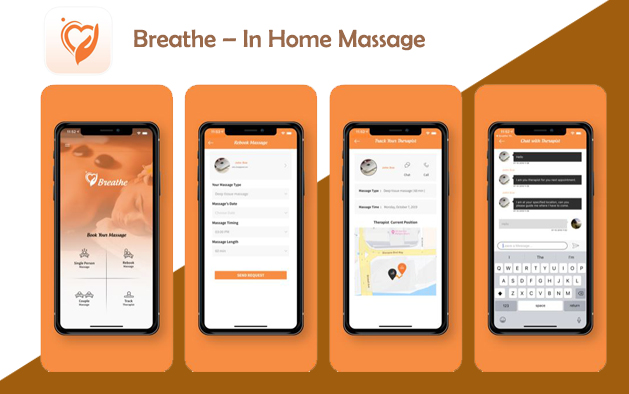 Full Body Massage
It is expediently designed to reduce overall tension, decrease stress and gets rid of sore muscles. Primarily this comprises work on your back, arms, legs, feet, hands, head, neck, and shoulders.
More particularly the Breathe massages are available seven day a week between 8.30am to 10.30pm. All Breathe independent certified and licensed massage therapist are actually proven to provide best quality service. Even the background checks are efficiently performed to guarantee the safety, convenience, access, value, and security.
The users can professionally experience two apps according to their choice where one app is for customers who want massage and another being for those who want to offer services. Presently the app is only for people in US. It is also enumerated that Breathe offers same-day, on-demand, in-home massage to customers via licensed therapists. They have widely grown to one of the top leading massage on demand services.
Eventually this popular Breathe brings a five-star, top quality massage experience to your door steps, offering an atmosphere of relaxation and convenience to all passionate customers. It is also noted that the independent and experienced professional therapist have been duly trained to guarantee the requirements of the customers based on the massage of their choice.
Verdict
If you are searching for a quality Massage Therapist app arrival which has some uniqueness into the mix, then you should check out Breathe-Home Massage Therapist app developed by Breathe Ondemand Inc. The app is wholly qualitative for me to use with the best features.
TherapistApp




ClientApp



FOR MORE DETAILS: Breathe on demand