If a child cannot learn in the normal way of teaching then we must teach in a way the child could learn. The modern days of mobile technology have wholly revolutionized the way kids with autism learn and communicate, and mobile apps have offered parents, educators, and therapists multiple approaches to teaching a child who develops at desired pace.
The apps included in this list immensely focus on and reinforce pre-K concepts, namely as reading and math, while improving imaginative play skills and art in kids with autism.
Starfall ABC/Learn to Read
This quality Starfall ABC professionally teaches the alphabet by assisting kids sound out the letters. This teaching is considered as positive reinforcement tool in therapy sessions with young children. They are like interactive alphabet flash cards.
Once children have mastered letters and sounds, the Starfall Learn to Read app assists emerging readers by introducing 15 simple sentence stories and fun songs with friendly characters. Every word in the story is sounded out phonetically to assist children recognize several letter sounds.
DOWNLOAD :
Super Why!
This popular PBS Kids app effectively permits your child to go on a hunt identifying letters with Alpha Pig, actively trace letters with Princess Presto, immensely practice rhyming words with Wonder Red, and assist Super Why himself to choose words in completing a story. The Super Why app provides fill-in-the-blank games within each story, so it actively improves reading comprehension because of the popular stories and characters.
DOWNLOAD :
The Monster at the End of This Book
The app is so famous among many parents and kids. It is a playful app from Sesame Street, comprising a bright, colorful, and laugh-out-loud funny. This storybook app beneficially features notes for parents on assisting children through their fears, along with 31 guidance tips, namely as "Encourage kids to mimic Grover's over-the-top movements and gestures as you read along."
It is qualitative for good teaching cause and effect since passionate kids would actively learn that with a touch of their fingers. They could also interact with the story by "turning" pages, untying knots, and knocking down bricks.
DOWNLOAD :
Emotions and Feelings — Autism
It is revealed that kids with autism often have difficulty recognizing emotions and facial expressions. So this familiar app, developed by TouchAutism.com, uses social stories and simple illustrations to illustrate what different feelings look like.
The app also professionally explains why people might feel a certain way. It's quality for use in special education classrooms and could be advantageous during speech therapy sessions.
DOWNLOAD :
Pop Math (Lite)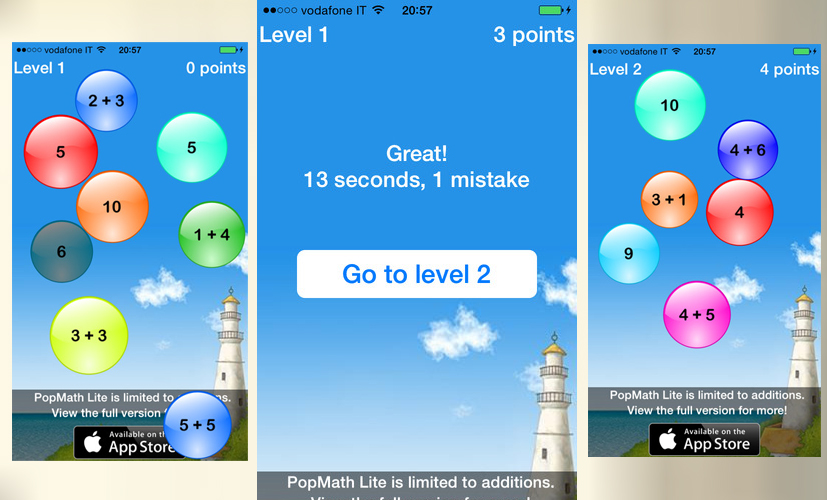 This familiar Pop Math (Lite) version of the Wired Kids choice award app professionally introduces basic addition and makes it entirely fun for your kids. There are six pairs of colored bubbles with numbers float around the screen, some illustrating equations and others showing the answers.
The kids must actually pop the correct pairs to advance to different levels, and words of apt encouragement are offered to keep kids going after each one. A child who has successfully mastered addition could actively progress to the full version of the app to learn subtraction, multiplication, and division.
DOWNLOAD :
TopIQ Academy
This qualitative app provides a variety of interactive games, some of which strongly focused on identifying and matching shapes, colors, letters, and eventually managing self-help skills.
It is certain that your kids would love playing "Icky Bathtime Fun," a game that actively teaches hygiene lessons such as showering and tooth brushing. Many of the games feature cute and mischievous characters, and the popular app tracks your child's performance level. It is also revealed that a "report card" offers detailed reports on study time and completed skills, which is so beneficial to qualitatively determine strengths and weaknesses.
DOWNLOAD :