1.Best Alphabet App: Alpha Zoo
It is a colorful app which re-imagines the alphabet as quirky animals. The exclusive 3D animation and rhymes engages kids as they trace each letter qualitatively. The app teaches kids about alphabet in qualitative manner. It is available as a book for those in the UK.
2.Best App to Learn Tracing: Patchimals – First lines: Tracing app for toddlers and preschoolers.
It adeptly teaches preschoolers pre-writing skills by utilizing colorful animations. Kids would actually learn to draw straight, curvy, zigzag lines, spirals, basic shapes, and complete pictures. You can also adjust difficulty levels and infinite sessions thus providing a stress-free workflow.
3.Best Health/Hygiene App: Duckie Deck With Teeth
This amazing app teaches the vital importance of dental care. Kids could grow various teeth and experiment with different mouth structures. You can also learn to brush after eating.
Best Apps for Two-Year-Olds
4.Best Early Math App: Drive About: Number Neighborhood
With this app, kids could visit several places in fancy vehicles to solve numerous math-themed mini games. Exploration would be vital, so they could play the games in any order and at their own specified pace.
5.Best App to Learn about Shapes: Busy Shapes
It qualitatively teaches kids about 2D shapes by matching shapes with holes. The passionate kids would learn to distinguish color, size, and shapes through over 110 self-adjusting levels.
6.Best Alphabet App: Avokiddo ABC Ride
This amazing app teaches the alphabet and spelling. Kids follow a boy or a girl as they bike through the neighborhood and solve several puzzles. You also have activity for each letter, which could be played in random order to avoid repetition.
7.Best App to Learn New Words: The Little Brown Bear Interactive Picture Book (English)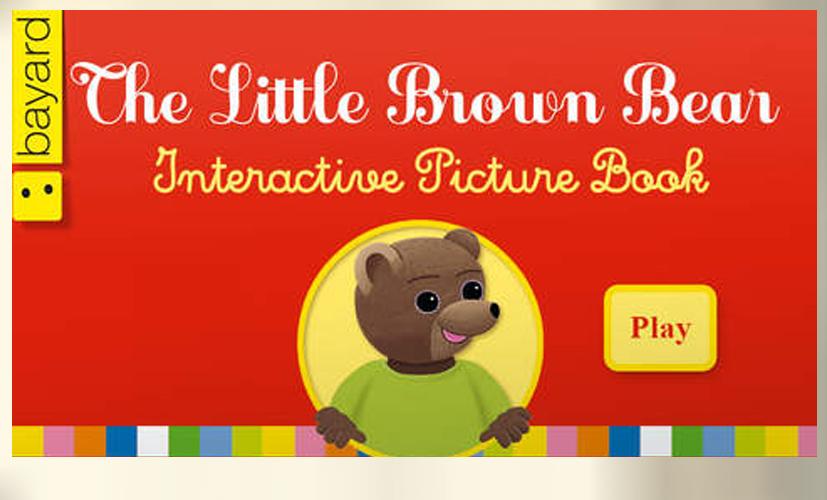 They have comprise six interactive scenes that convey unique stories despite not containing any narration or text. Kids could pick up to 250 everyday words by tapping on several items. You have memory game which motivates kids to find all the objects in the scenes.
8.Best Space Exploration App: Sago Mini Space Explorer
This wonderful app provides fun surprises at every turn. Many of the animations play slightly unique way for the second time, offering kids the incentive to come back. You could experience plenty of humor, along with the apt opportunity to get kids excited about space.
9.Best Role-Playing App: Toca Pet Doctor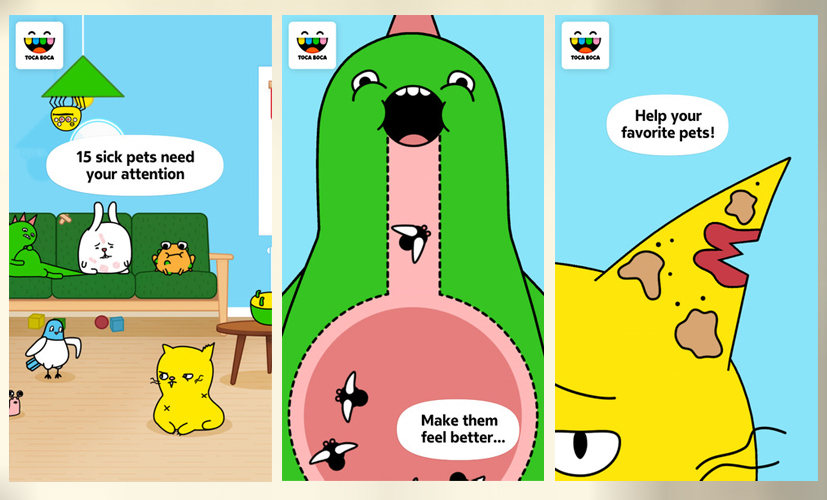 This app, juniors get to play vet for 15 little injured pets. It help to learn how to take care of common pet problems and feed their pets. It is enumerated that some of the injuries are applicable to humans, so eventually kids also learn to take care of themselves.
10.Best Bedtime App: Nighty Night Circus – Bedtime story for kids
It is one of the quality app in which kids help circus animals go to sleep by turning off the lights. In such situations the kids make their rounds, so they could watch the animals perform silly tricks. Lovely animation and soothing narration make this app a good addition to your child's go-to-sleep ritual.
Best Apps for Three-Year-Olds
11.Best App to Learn about Shapes: Doodle Critter Math: Shapes
They provide six games in which juniors could learn about six basic shapes and the concept of corners and sides. It is also noted that Kids also learn to identify these shapes in the real world. The games attains difficult over time, reinforcing the several concept of shapes.
12.Best Phonics App: The Joy of Reading
It offers a comprehensive and qualitative approach to encourage early reading. There are nine multi-level games guide where kids could effectively learn about phonemic awareness and phonics. The parent and teacher handbook outline the games and enumerates the exact learning process.
13.Best Counting App: Quick Math Jr.
They provide exciting five mini games which cover key foundations of math including addition and subtraction, writing numbers, place value, and much more. They utilize classic games but introduces new elements to make them more exciting and engaging. There are self-adjusting levels which guarantee that kids always learn at their own pace.
14.Best Interactive Storybook: Windy's Lost Kite – A Windy and Friends Stop Motion Animated Story for Children
The app comprises quality interactive stop-motion animation and a playful soundscape. The lighthearted story is suitable for young kids. There are two bonus activities which actually add an extra layer of fun.
15.Best Toy App: Sago Mini Road Trip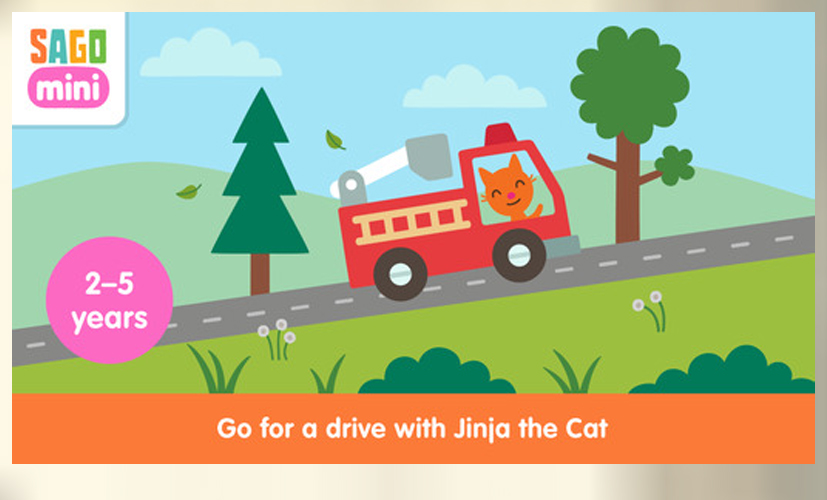 You can experience fun driving game in which kids and Jinja the cat visit their friends at different places, from lucrative beach to the tall mountain. They pack her suitcase and pick a silly car to drive. There are some mini activities and fun surprises on the road which make for a interesting storytelling opportunity.
16.Best Role-Playing App: Dr. Panda's Mailman
This is absolutely amazing app where kids assist Dr. Panda pack and deliver handwritten postcards with respective packages to animal friends. Exploration is vital as kids zip through a globally filled with mountains, forests, houses, and rivers. There are no rules and no time limit.
17.Best Bedtime Storybook: Wake Up Mo! ~ 3D Interactive Pop-Up Book
You can follow cute Mo's morning routines in this entertaining app. They have eight interactive 3D pop-up pages, also featuring common activities for preschoolers, respectively as eating breakfast, getting neatly dressed, and going to school.
18.Best App to Learn about Weather: MarcoPolo Weather
It is one of the beneficial app where kids learn about how different weather conditions affect people in this quality app. By using simple controls, they could change the weather, temperature, and wind to simulate several weather conditions from moderate to extreme.
19.Best App to Learn about Airport and Traveling: Tiny Airport
You have three scenes to introduce kids to air travel. They comprise more than 90 interactive stories to rouse your children's curiosity. It is text-free but intuitive.
20.Best Nature Exploration App: MarcoPolo Ocean
It is entirely different app where kids could learn about the ocean. They comprise professionally-recorded narration which offers them with contextual details about the animals living underwater, ocean landscape, and shipping vessels. Moreover the quality app has a free-play aquarium.
21.Best App to Develop Emotional Intelligence: Peppy Pals
It primarily focuses on learning about empathy, emotions, friendship, and other relevant social skills. The app illustrates these qualities through interactive fables. They comprise drawing and coloring activities to keep kids engaged and active.
22.Best Baking/Cooking Game: Toca Kitchen 2
It is more sequel to the familiar Toca Kitchen app. You can get new guests, new ingredients, and new tools to play with. There are characters which have stronger reactions and teaching kids to pick up emotional cues. You also have vegetarian mode which is added.
23.Best Environmental Education App: Gro Garden
This fun app adeptly teaches kids about sustainable farming. The kids could experience the gardening life cycle hands-on by preparing the soil, planting seeds, harvesting the crop, collecting food scraps to actively produce compost, and much more.
24.Best Interactive Simulation Game: My Very Hungry Caterpillar
This attractive 3D app allows kids nurture their own caterpillar until it turns into a beautiful butterfly. The gameplay is infinite; the butterflies you've grown would fly around as you take care of your next caterpillar. It is a unique way to teach kids about metamorphosis.
25.Best Platform Game: Thinkrolls
This amazing Tactile puzzler actively teaches kids about physics through 180 levels. The Kids could learn to develop force with momentum, predict angle of impact, read patterns, and more. There are many levels to plan ahead, so it sharpens problem-solving skills.
Best Apps for Four-Year-Olds
26.Best App to Learn about Measurements: Shiny Circus
It is a circus-themed app in which kids could easily learn about several types of measurements: length, height, width, area, distance, and mass. The app is also able to develop counting skills as they compare, sort, and match objects. You could also come across social aspect to the app as it actively teaches kids about sharing with others.
27.Best Nature Exploration App: Explorium – Ocean For Kids
With this app kids dive deep to search the lost city of Atlantis while simultaneously learning about marine life. There are reputed mini games which keep kids engaged, while a dedicated encyclopedia section offers more than 50 facts about the animals and objects found throughout the amazing games.
28.Best Musical App: Music Superheroes – Learn music while having fun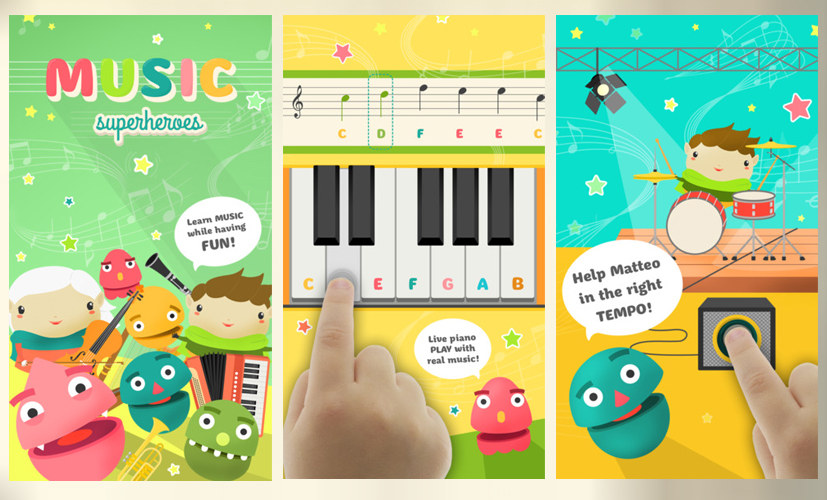 In this app the kids learn music concept and skills as they play. It comprise five mini games that cover concepts namely as tempo, rhythm, notes, instruments, and music production. You have beneficial features of recordings made with real instruments. Kids could also record their voice to marvel unique sounds.
29.Best App to Learn about Professions: Match & Play – Jobs
The app features 20 occupations from pilot to veterinarian. There are four mini games which get kids acquainted to these professions and what tools are linked to each one. It is one of the amazing app to expand your kids vocabulary as well.
Best Apps for Five-Year-Olds
30.Best Montessori Math App: Montessori Math City
The app adeptly teaches kids about the decimal system utilzing tools respectively as golden beads and Seguin board. As kids finish the necessary activities, they would earn items to build their city.
31.Best App to Learn 2D Shapes using Tangram: Shape Arts: Geometry Creations
With this help of app learning geometry could be fun. Shape Arts primarily assists kids to learn about 2D shapes, spatial reasoning by actively solving and developing tangram puzzles. They could also share their puzzles with other Shape Artists or play puzzles developed by others.
32.Best Digital Book Library: Dr. Seuss Treasury
It is possible to get a free 7-day trial period, during which you could actively download and read as many titles as you can. Each book comes with beneficial reading options, comprising record-your-own narration.
33.Best App to Learn about World Culture: Homes by Tinybop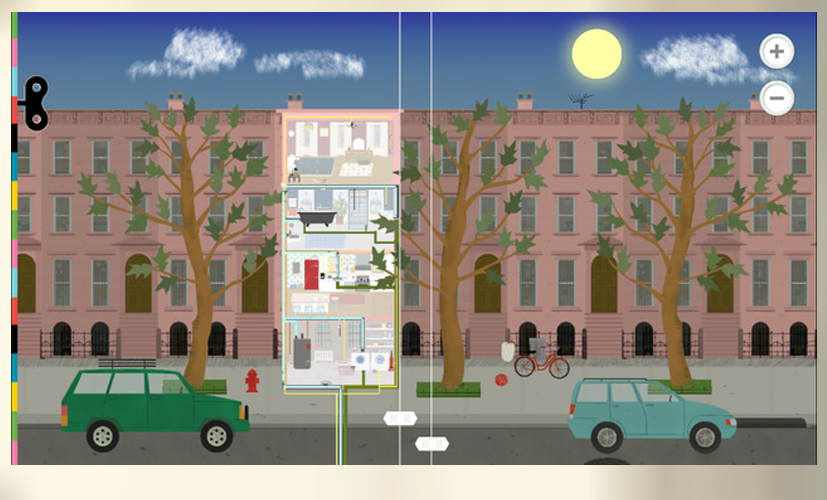 This amazing app allows kids to explore the nooks and crannies of four homes from around the globe. The respective objects are labeled in more than 50 languages, and effectively permit fun interactions.
34.Best App to Learn about Physics: Max & Ruby! Science
This app develops learning physical science fun. Kids would easily learn about the properties of liquid and the motion of objects through simple, hands-on activities assisted by Max and Ruby. Fun rewards, entertaining animated clips and building own-scenes sticker book would keep kids motivated and engaged.
35.Best Nature Exploration App: Toca Nature
It is a quality imaginative app where kids could manipulate terrains and grow tiny habitats at their fingertips. It's full of details with specific environmental conditions that can affect their animal inhabitants. They have friendly way to experience the wonders of nature.
36.Best App to Learn Fractions: Slice Fractions
It is brilliant puzzle game with nice introduction of concepts regarding fractions in over 90 levels. The Juniors would slice and match fire or ice blocks to assist a mammoth reunite with his beloved.
37.Best Original Storybook: The UnStealer
It comprises amusing story filled with positive messages. They include lots of humor and silly word-play. Includes collage-style lucrative graphics and good story-driven animations which add to the overall reading experience.
38.Best Montessori Math App: Montessori Math: Multiplication
It actively explains the core concept of multiplication in details and step by step. The kids would also learn by playing different games. They permit multiple player profiles and adjustable difficulty levels.
39.Best Town Management Game: Hoopa City
It is a building game where kids could easily experiment with seven basic materials to develop over 50 different buildings. The popular discovery aspect makes the game engaging. Fans of Dr. Panda apps would spot eminent faces as they ride around town, visit shops, and respective lounge at the beach.
40.Best App to Learn about History: D-Day for kids
They include graphical storybook which retells the historical Normandy landings. Comprises several quizzes and mini games to test the reader's comprehension. You also have reward stickers which offer additional facts on vital historical figures and objects.
41. Best Puzzle Adventure Game: ShipAntics: The Legend of The Kiki Beast
This app includes seafaring adventure interlaced with riddles. It comprise TV-quality cartoon animations and likable characters contribute to amazing experience.
Best Apps for Ages 8-10
42.Best Arithmetic Game: Twelve a Dozen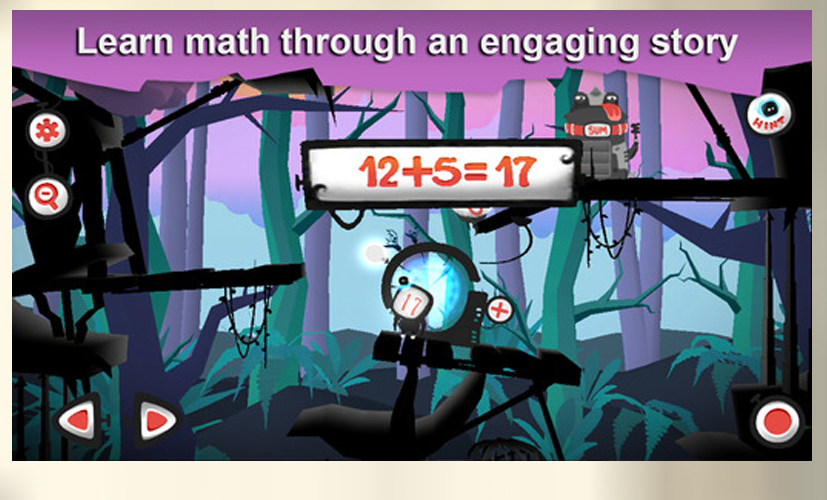 They have absolutely sensational platform adventure game to teach arithmetic. It includes thoughtful puzzles, forgiving controls, and vibrant graphics developing a solid gaming experience.
43.Best App to Learn about Fractions: Quick Fractions
It provides four quick-paced game modes to learn about fractions. They also support for handwriting recognition which permits players to write their answers directly on screen. It includes four difficulty levels from beginner to extreme, so players would always find a good challenge.
44.Best Arithmatic Game : The Land of Venn – Geometric Defense
They have fast-paced defense game which has simple way to learn geometry. The learning is qualitatively integrated into the gameplay; kids actually defeat evil monsters by incorporating them into shapes. You have quirky visual style which set it apart from respective apps in its category.
45.Best Geometry Game : DragonBox Elements
It is well marveled adventure game to learn all about the basic of geometry. The Kids are able to secretly construct Euclidian geometrical proofs as collect warriors to defeat evil monsters. There are more than 110 levels which are available to offer several hours of gameplay.
46.Best Modern Science App : Meet Science: Magnetism and Electricity
It is just a science textbook on your tablet as the app includes lessons, experiments, and games to teach kids all about magnets and electricity. There is also audio narration and fun animation which actively engage learners as they go through the lessons.
47.Best Science App : Meet Science: Light and Sound
It is one of the comprehensive app to learn the fundamental concepts of light and sound, enumerated with vivid animations and audio narration. The kids reinforce what they have learned through interesting quizzes, mini games, and experiment videos.
48.Best Anatomy App: My Incredible Body
You can come across exclusive 3D app which provides a guided tour inside the human body. There are eight chapters which cover topics ranging from the digestion system to the blood circulation system, wholly enumerated with animated videos to show how various organs work.
49.Best App to Learn about the Human Body: Heart and Lungs Lab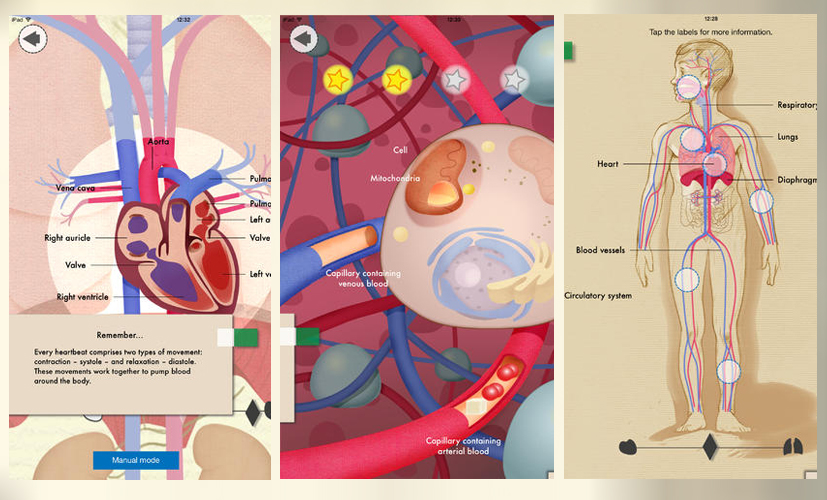 This app permits extensive look into the inner workings of the body's cardiovascular and respiratory systems. Interestingly the kids brush up on their facts, then validate them through tactile experiments and some challenging practice quizzes.
50. MathBoard
This app of MathBoard could be simply configured for kids of all ages, starting with simple addition, subtraction, multiplication, division and algebra problems. It is noted that MathBoard's Problem Solver walks through the steps which is required to solve the addition, subtraction, multiplication, and division equations. Moreover the activities and quizzes could be timed.