Fish School HD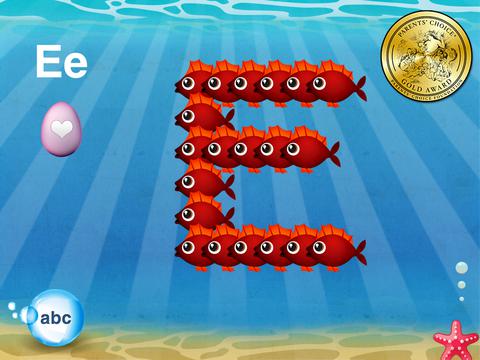 It is a playful underwater experience with 8 educational activities. They are award-winning app which professionally teaches letters, numbers, shapes, colors and more.
You could watch colorful fish creating letters; recognize numbers and learn to count from 1 to 20. You can follow the fish as they form shapes; Touch, tap and drag to make fish. It is also possible to witness colorful sea life doing funny things. The users could also listen to classical variations of the ABC Song.
DOWNLOAD APP HERE : 
Count, Sort and Match
This familiar app simplifies key math concepts for preschool kids up to age 6. The app assists kids to count to 20, spell numbers, and sort by color, shape and size to preschool children. Moreover the app offers clear direction, an easy interface and colorful graphics to assist younger kid's engaged.
It is an exclusive app for children up to 6 years old that does professionally well. With this simple and intuitive game, children would learn how to count, how to correctly write the numbers, how to sort objects of different colors and to train their memory skills by matching cards.
DOWNLOAD APP HERE:
Math is fun
Math is fun more special and actually benefits for kids in larger way. With the help of 8 fun activities, this app professionally teaches kids namely to recognize numbers, to count, to order numbers, to play with weight, to determine ranking and actively to handle shapes.
The users could also find variety of games to select from, and all of them require just a bit more skill than number identification. There are no overt and obnoxious ads and it is one of the best apps found for this age group of 4-5.
DOWNLOAD APP HERE :
Butterfly Math Addition
With this app the kids drag a target number of butterflies into a bamboo cage. So they actively check their work and adjust it if required to be. Interestingly this app permits children to make mistakes, and then fix them. A lot of the counting apps only provide the correct number of items to be counted.
The Butterfly Math Addition app takes qualitative approach in teaching simple concepts of numbers and addition to young minds. The core idea of incrementally adding butterflies to the cage offers the kids with an understanding of smaller and larger numbers.
DOWNLOAD APP HERE :
Park Math
This reputed app is award-winning one and professionally teaches early math concepts based on common core state standards. The users could actively learn numbers, counting, addition, subtraction, sorting and patterns through fun oriented educational activities. There are seven different activities for the child to explore. This app was extensively marveled by Duck Duck Moose, an award-winning creator of educational apps for children, was actually founded during 2008.
DOWNLOAD APP HERE :